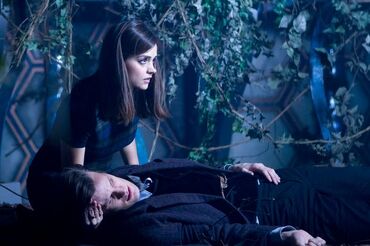 The Name of the Doctor is the thirteeth and final episode in Doctor Who's seventh series. The Doctor's greatest secret which for years the silence have tried to stop is finally revealed and so is Clara's. In danger is the Doctor's past, present and future.
 The Name of the Doctor (239)
Starring:

Matt Smith - Eleventh Doctor
Jenna-Louise Coleman - Clara Oswald
Alex Kingston – River Song
Richard E Grant – Dr Simeon
Neve McIntosh – Madame Vastra
Catrin Stewart – Jenny
Dan Starkey – Commander Strax
Michael Jenn – Clarence
Paul Kasey – Whisper Man

Written by:
Steven Moffat
Directed by:
Saul Metzstein
Excutive Producer:

Steven Moffat 
Caroline Skinner

Airdate:
18th May 2013
Format:
1x45
Clara is summoned to an impossible conference call, alerting her that the deadly Whisper Men are closing in on Vastra, Jenny and Strax. Someone is kidnapping the Doctor's friends, leading him toward the one place in all of time and space that he should never go. It's a deadly trap that threatens to unravel his past, present and future...
The mystrey of Clara is solved in this episode. Oswin Oswald (Asylum of the Daleks), Clara Oswin Oswald (The Snowmen) are two of the many versions of her fragmented across the Doctors timeline to save the Doctor from the G.I who had entered it to turn every victory into a defeat.
The name of the episode was not about revealing his name but the meaning behind it leading up to the reveal of the forgotten Doctor (John Hurt).
Strax, Vastra and Jenny who last appeared in "The Crimson Horror" return.  
A post Libary River Song returns.
Production 
Edit
This is the last episode of Doctor Who that Caroline Skinner is credited as Excutive Producer for. 
The episode was leaked a week before broadcast because of an early shipment of Blu-rays to America. 
Trailer  
Edit